I Love Alignment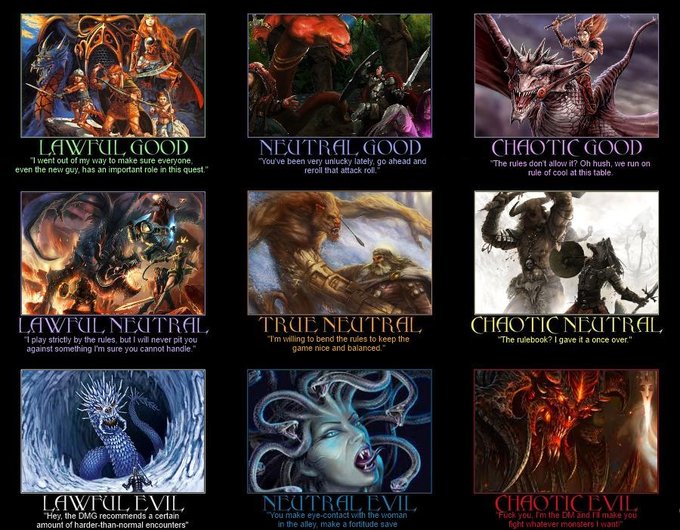 I know I'm practically the only one, but I do. I love that it's super vague, and I don't like the move away from it in newer editions of D&D (though I don't like the notion of tacking it on to games that don't have it). I know that it's an unnecessary piece of the system that's carried forward for the same reason that fireballs always do 1d6/level damage, and I still like it because it's an occasionally convenient piece.
Some brief history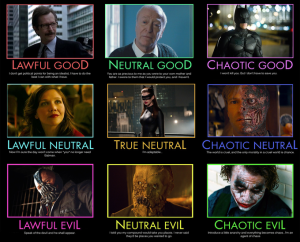 Since the dawning days of Advanced Dungeons & Dragons, there have been nine alignments, moral and ethical positions that characters and deities adopt. Some creatures, like demons or angels, are committed to an alignment as a fundamental part of their nature. All characters have an ethical alignment (Lawful, Neutral, or Chaotic) and a moral alignment (Good, Neutral, and Evil), resulting in a two word combination that has some kind of meaning (yes, neutral neutral is an alignment). Since D&D isn't written by philosophers or ethicists, what it actually means for someone to be committed to any one of these alignments tends to vary wildly. If you think this is a cause for a lot of arguments, especially since certain alignments are required for certain powers, you're absolutely right.
Alignment is vague
The biggest complaint about alignments is probably that they're vague. They don't give a lot of guidance, and they're not really well thought out when it comes to what behaviours and motivations are consistent with what alignment. They don't confront any strong moral questions, and they're generally so watered down that it doesn't mean much of anything to be a follower of them. Someone who's lawful neutral might value law as in the law of the land, or the law of their religion, or some natural law, their own personal code of honour, or the abstract principle of law itself. The result is that even people of the same alignment probably don't agree on very much.
Alignment and ethics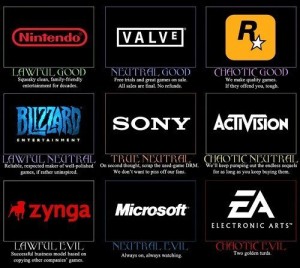 There have been moves to link alignments to various philosophical ethical systems, but this doesn't really work. for one, it makes alignments less useful, requiring players not only to understand their characters but also to understand the nuances of an ethical system they're unfamiliar with. For another, as someone who has a graduate degree in philosophy specializing in ethics, the version of these ethical systems  that show up are usually so rough and muddy that they do a disservice to the system itself. Virtue ethics is about more than being your idol, and consequentialism is about more than weighing consequences. This method creates more work for players, and doesn't actually make the alignment system more rigorous or interesting, though it does create a more rigorous system whereby players can tell each other they're doing it wrong.
Alignment and values
What I like about alignment is that it's more than values. It binds a character's values together in a way that describes their outlook on the world.It's muddy as hell, but life is murky and weird. People who value many of the same things to the same degrees often still have very different perspectives on the right way to act. their experience is going to colour how they act on their values, who they trust, and how far they're willing to go. But the nine alignments provide a nice array for characters to slot themselves into generally, and can provide a descriptive account of where they sit relative to everyone else without needing to dig into sophisticated ethical systems unless the player wants to.
At my table we use alignment as a tool for self-reflection. I have a talk with each player when they choose their alignment, and we talk about what that alignment means and what their character's values are. As the campaign goes on, I monitor their character's behaviour, and we use that alignment discussion as a check. Things always shake themselves out in play, and maybe that lawful good hero is really more chaotic good. I check in with players as needed and talk about how their behaviour is shifting based on the early conversation we had, and I usually suggest a new alignment. At that point we decide whether they want to try to stick closer to their original, or try out the new one. Alignment shouldn't be restrictive, it should create opportunities for growth. In characters like paladins, alignment is restrictive because the player consents to those restrictions. In this way, it's a check that always does what the player needs it to do. If someone is less than concerned about their alignment, then they pick up their new alignment and go on their merry way. If the outlook of their old alignment is really important to them and their concept, they work harder to stick with it. Either way, there's no pressure and no sense that they're playing their character wrong, just that the character is changing over time.
Good vs. Evil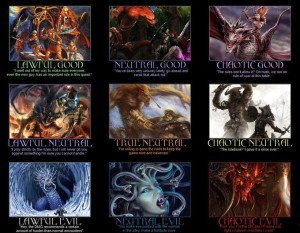 One of the things I love about alignments is that it lets us have conversations about good and evil. I enjoy the idea of evil being this tangible thing that people understand. Evil gods aren't just deities of different outlooks, some of them are elementally diabolical, which makes acts of heroism shine that much brighter. With evil, there's no quibbling. Demons might be nice and civil, but they're also evil. When it comes down to it they're looking out for themselves, not you. They relish inflicting pain because evil, and for no more complicated reason. There's a wonderful simplicity to that that often intrigues and terrifies players when they dig into it. they're not evil because of reasons, but because of their nature, and make no apologies for it. Good creatures are more complex, because there's an interesting open question about whether a character can be good by their nature and the distinction between being good and doing the right thing. Alignment lets us cash out these concepts in clear ways in part so we don't have to spend hours talking about ethics and can get right down to the feels of good and evil.
So I like alignment. It's a useful tool for self-reflection, often has (occasionally asinine) consequences for in-game moral choices, and compartmentalizes the world in a way that simplifies some things and complicates others. It's useful when it's useful, and the rest of the time, who cares? It's not a tool for telling people they're doing it wrong, it doesn't demand complex ethical understanding, and it can accommodate people who want to think more deeply about their character's ethical position while not alienating people who want to kill monsters and take their pants.