History Hooks: The Empty Fort Strategy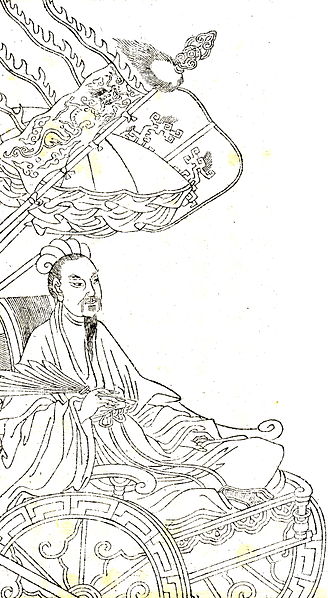 In the Thirty-Six Stratagems, an ancient Chinese essay illustrating stratagems used in politics, war, and civil service, the 32nd is the Empty Fort Strategy. This was employed several times throughout Chinese history but today we will focus on the general Zhuge Liang and his use of the stratagem during the Three Kingdoms period.
The History
Okay, well history might be pushing it a little with this one. I am stretching this a little as the story appears to be an invention of the author Luo Guanzhong as a part of his novel Romance of the Three Kingdoms which details the events of the late Han dynasty and the Three Kingdoms period of Chinese history. Inventing amazing feats accomplished by famous men from history is common amongst writers and makes for a great story anyway, which suits our purposes.
The story centres around Zhuge Liang, regent and chancellor of the Shu Han kingdom, one of the fragmented kingdoms along with Cao Wei and Eastern Wu which formed after the Han emperors lost control. He was a tall man, reportedly over six feet, who spent much of his youth studying and farming. In the emerging chaos of the Three Kingdoms period, Zhuge Liang attached himself to Liu Bei and later his son, Liu Shan, convincing them to make their break with the Han dynasty and carve out their own kingdoms. He became instrumental in the campaigns that followed and earned a reputation as a brilliant general.
In the course of the fighting, Zhuge Liang found himself at a city called Xicheng with a very small force and facing the Cao Wei general Sima Yi and his army of 150,000. Zhuge Liang was in a very precarious position. His handful of soldiers would be no match for Sima Yi's army and reinforcements were too far to help. So Zhuge Liang came up with a plan.
Ordering his men to dress in civilian clothes and sweep the streets of the city, Zhuge Liang had the gates thrown open and sat conspicuously above them, playing his guquin (a kind of zither). There he sat, watching the massive army approaching the city. When Sima Yi saw his rival perched atop the gates, nonchalantly plucking at his instrument, he stopped. Sima Yi assumed this had to be some sort of ambush set up by the master strategist and so he marched away rather than attack.
Zhuge Liang later explained that his manoeuvre was very risky but because he had established a reputation as a very careful commander, always making sure there were few risks in his plan, Sima Yi thought his relaxed demeanour indicated there was an ambush waiting inside. Zhuge Liang used what his enemy knew of him to his own advantage.
The Hook
Like last week's entry, this story can be used in a lot of ways. Personally, I would play out almost this exact scenario when the party comes to an enemy fortress. Have the big bad just sitting above his open gates, no one else in view, playing an instrument or some other relaxed activity. Then watch as your players try to figure out what the game is. Is there an ambush? Is he bluffing? Did they even come to the right place? Has the villain reformed and disbanded his forces? Is this someone else who came in and dispatched the foes? See what your group comes up with and either roll with it or, sticking with the psychological warfare, surprise them again by going with another option.
The other way to go is to put the party in Zhuge Liang's position. An army far larger than anything they can handle is on the way. Make the city too important to simply let the enemy have it and see what they can come up with. Maybe they'll try to bluff like Zhuge Liang did. Maybe they'll bargain with the opposing general. Or set some sort of elaborate trap. The fun here is letting the party figure something out for themselves. If they are getting stuck then have an NPC put forward a suggestion or two and let the party figure it out from there.
If you're noticing a trend with letting the PC's come up with plans there is a reason for that. I'll go over why in next week's post.