History Hooks: Quaker Cannons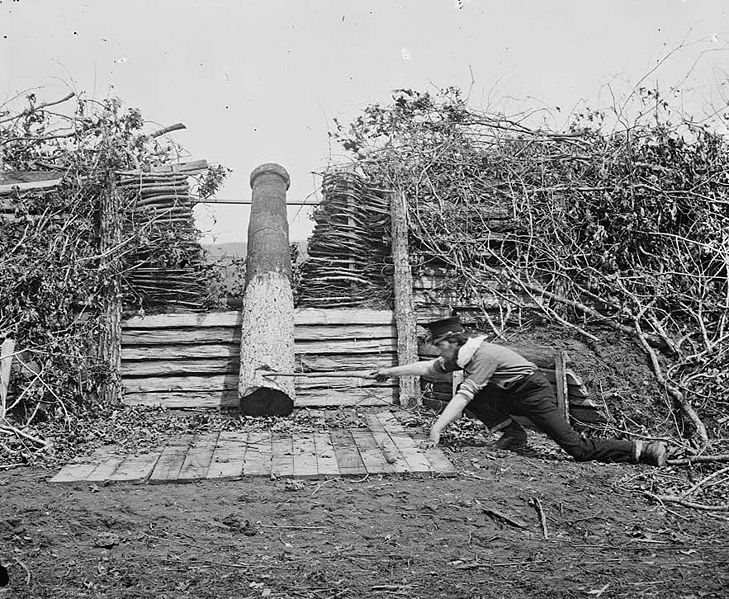 Welcome to a special Friday edition of History Hooks. Today we will be bridging last month's improv topic to this month's psychological warfare with a look at Confederate General John Bankhead Magruder, a.k.a. Prince John, and his bit of theatre during the Peninsular Campaign of the American Civil War.
The History
In the spring of 1862, the Northern army under General George B. McClellan began their march on Richmond Virginia, taking the route through the peninsula formed by the York and James Rivers in that state. The cautious-to-a-fault McClellan had assembled sixty-five thousand men before he began his slow approach up the peninsula. Opposing him was Confederate Major General John B. Magruder and the thirteen thousand men of the Army of the Peninsula, a force far too small to stand up to the Northern army. Fortunately for them, Magruder had an interesting skillset that he now brought to bear: theatre.
While he was stationed in Corpus Christi years before, Magruder had built an eight hundred seat theatre, constructed sets, and put on plays with the soldiers under his command. He now used those same talents to stop McClellan's approach. Forming two lines of defence, Magruder made the northern forces believe his army was far more numerous than it actually was.
Magruder kept his men constantly on the move, stirring up more dust and noise than his tiny army would normally. To make it appear like he was receiving reinforcements, Magruder had his men drag around supply wagons filled with rocks or wood to fool Northern observers. He also had his men cut down huge trees, sand them, and paint them black to make them look like cannons. He then placed these "Quaker cannons" across his line to make up for his deficiency of actual guns.
These tactics delayed McClellan but he still began his march on Yorktown on April 4. Magruder's first line disappeared before the Northern army's approach but simply took up position in the second line around Yorktown and across the entire peninsula. Here Magruder stepped up his deceptions. He split six thousand of his troops into two columns and had them march behind his lines, back and forth. Occasionally they would rush to a point on the defences, as if to man them, but as soon as they were in position they would sneak away through the trenches and resume marching once again. Magruder encouraged his men to make as much noise as they could: yelling, shouting order, playing bugles, and firing muskets. Quaker guns continued to poke out through the earthen works and real guns rained down liberally whenever northern forces came near, making it seem like a large and aggressive force was manning the defences.
Magruder managed to hold McClellan's forces at bay with little more than smoke and mirrors for a month. During that time he received actual reinforcements, bringing his army up to thirty-five thousand but even these would not have been a match for the Northern army. So when McClellan finally planned to launched his assault on May 5, the Confederate forces unleashed a fearsome artillery barrage on May 3 and slipped away under the cover.
Magruder's defence of the peninsula was brilliant. He used his scant forces and resources to completely delude his opponent. His own men may not have understood what was happening (diaries from his soldiers often accuse him of issuing drunken orders) but in the end he saved their lives and allowed them to join the Army of Northern Virginia which was to cause the North so much difficulty during the war.
The Hook
There are great opportunities here for hooks. Magruder himself makes a wonderful character: drunk, slightly dandyish, a flair for theatrics and a sound military mind. Plus his nickname was already Prince John and there are ample opportunities to put a prince with those characteristics in your game. The embarrassing son who must prove his worth during a crisis or perhaps a general who drills his soldiers in acting as much as soldiering.
You could also look at the scenario itself and have a town or army that defends itself using similar tactics. Perhaps the PCs must uncover the subterfuge in order for their side to attack: scouting out the lines themselves, ambushing small groups in the trenches, bringing back proof that the weapons on display are fake, etc.
The PCs could also aid the defenders in making their force seem larger and more powerful. Here you could give the PCs some really straight forward ideas like ambushing patrols but also leave a lot of leeway for their own ideas. I envision presenting a list of supplies and the forces available and seeing what the players can come up with on their own. It is a great opportunity for them to be creative.