Guitar Pick Lairs
TPK Roundup
This week's roundup promises some awesome posts, including how to make innovative counters for your games and a new terrain Kickstarter. Add in some advice and a new feature for the next season of D&D Encounters, not to mention Ryan's personal Reapermas, and it's been a great week! Enjoy your long weekend, and game on!
Wizards of Time (and the Coast)
The package for the newest season of D&D Encounters will cost retailers (and anyone else who wants to run it) forty dollars, which doesn't seem like a bad deal. They had to start charging for it sooner or later. The kicker is that for your money you can get one in 3.5 edition, 4th, or D&D Next. As somebody with an affection for all of these editions, this move toward backward compatibility is one I find really exciting. Check out the story on the Examiner.
Mythical Lairs
They're a new terrain company running a Kickstarter right now, with some great rates on some gorgeous sets of dungeon terrain. I really dig their dressing items. Perfect if you missed the Dwarven Forge Kickstarter. Still great if you didn't, because they've been talking with the CEO of Dwarven Forge on making a conversion hallway that'll let you connect your Mythical Lairs to your Dwarven Forge pieces!
Gorgeous Gaming Tokens
Dave over at Wargaming Tradecraft just put up an article on how to make simple and interesting tokens out of guitar picks. Leave poker chips and cardboard cutouts behind in favour of glossy and labelled pieces. You can see the whole process on Wargaming Tradecraft.
15 Minutes of Game
Johnn Four emphasizes how crucial the first 15 minutes of the gaming session can be in this post at Roleplaying Tips. As a GM, you have to grab people and get them making decisions within that time not just in your first session, but at all of them. What do you do in your first 15 minutes at the gaming table?
Reapermas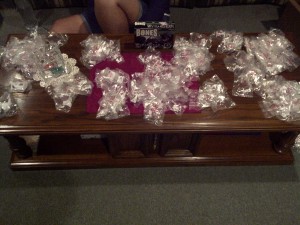 Ryan's Reaper minis from the kickstarter arrived yesterday and the spread is impressive. Here is a picture to give an idea of just how many arrived. Note that not all fit in the picture, there were too many for the camera. Once I can get them all set up I'm sure there will be more pictures to follow.