Fudging Dice
Before we get started, a couple of announcements. First, you should head over to my MoSpace and support Movember if you haven't already. Donate now, and decide what silly thing I do with my moustache for the last week of November. Details are here. Also, over the next month I'm going to be migrating the blog to a new domain, so there might be a bit of downtime. You'll have to update your bookmarks and your rss, and I'll be putting an automatic forward here just in case. I'll keep you posted here, and you can find updates on my Twitter. Now, on to fudging dice.
Fudging dice, for those not in the know, is the practice of rolling one thing and claiming that it's another. It is, in essence, cheating in most games. However, that doesn't mean that it might always be impermissible, and there have been lots of arguments made about occasions when it's okay.
The practice as old as the hobby itself and likely older, and I've heard a lot of arguments for it which all seem to boil down to the same argument. It is permissible to fudge dice when the consequences of not doing so are pass a certain undesirable threshold. Whether that's the GM fudging dice to avoid real world reactions from a player (this seems to happen more often when the player concerned is a partner or younger than the average), or fudging in order to preserve some character essential to the story. The basic idea with this argument seems to state that there is something at stake which is more important than fairness in dice rolls, and when that thing is at stake, one ought to weight the dice rolls in order to preserve this. It's a pretty good argument, but seems very contextual. If we're locked up by the guy from SAW, playing D&D of Death, what's at stake certainly outweighs the need for fairness in resolution methods, but in an everyday situation, this seems problematic for two reasons.
The first is that we would never endorse this practice in other cases, despite the fact that it uses the same argument. If something is going to have bad consequences, we think that we ought not to lie about it. We have a word for people who tell the truth only when it is convenient to them, and that word is "Liars". We admire honest people because they tell the truth when it goes against their favour. The stakes being perceived as high doesn't seem enough to merit breaking the convention for honest discourse. And we can see this in the game, because if a player fudged a die in order to save their character from a negative consequence, we would regard that as bad practice.
The second problem with the argument is that it doesn't take into account the entirety of the stakes. As the GM, people rely on you for fairness. As any other player, we realize that there's a certain amount of the honour system in the game as well. Fudging dice trades that commitment to long term fairness for a momentary reprieve from consequences and, if it comes out, then it undermines all other consequences, even the fair ones. If one or two die rolls were fudged, their situations resolved through the will of the GM rather than the fall of the dice, it becomes reasonable to ask what other situations the GM has resolved this way.
What I'm saying is never fudge dice. And we all do it from time to time, I know I have. The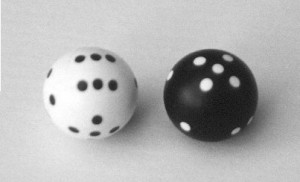 best way I've found to keep myself from being tempted to do it, because as the GM I have the most opportunity, is to simply roll everything in public. Everyone can see it, and everyone can see that it's fair. It's a simple method of accountability, and it's the same kind of accountability that's expected from every other player. This does give them access to a bit more information, making it easier for them to deduce what a monster's numbers are and gauge the difficulty, but I haven't found that to be too much of an issue so far. What do you think? Should we fudge dice, and if so, when and why?