Broad Strokes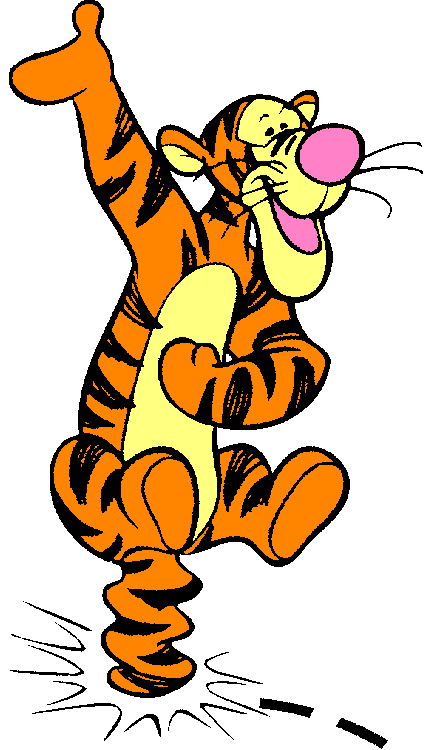 I spent the week with a friend's kids, and learned a lot of really interesting things, one of them which I'll share today. We've watched a lot of movies. Kung Fu Panda, Winnie the Pooh, Happy Feet, all kinds of kids movies, and there's something that I've noticed. They always focus on the broad strokes. Everything's over the top, the villains are darker in some ways, and the heroes shine brighter. The stories involve sweeping and constant themes, and the characters all have traits that plainly set them apart from each other. They're archetypal in a way that's very useful for GMing, so today you'll learn how to focus on the broad strokes, thanks to kids' movies. 
Stories
Kids' movies paint their stories with a wide brush. You can always tell what they're about, often from the first few scenes. Happy Feet is about being accepted for being different, Kung Fu Panda about realizing true potential, and the Tigger movie is about how family is something you make. These elements are always presented with a consistent vision, a clear idea about where things are going and how they can resolve. Because these story arcs are so archetypal, we have a sense of where they're going, and they can surprise us by how they get there, and the things they accomplish along the way. The kinds of stories they're telling are very old. We know them. Kung Fu Panda is the story of the peasant hero. The Tigger movie is the tale of an orphan finding a family, and Happy Feet is pretty straightforwardly the Ugly Duckling. Now, you can ask what the use is of reusing stories that everyone knows, but the answer is that it's all about the journey. What makes them interesting is how you manipulate convention. Read Roald Dahl's Little Red Riding Hood, and compare it to the original. It's interesting not just because it's hilarious, but because it takes a story we know well and changes it in an interesting way.
Characters
These same principles work for characters. Think about Winnie the Pooh. Each character has a defining trait. Pooh has poor impulse control, Piglet is a coward, Eeyore is a pessimist,  Kanga is a mother, and Rabbit is prideful. If players recognize the archetype, it makes the character familiar and more intelligible, even if it means that they're larger than life. It also helps you provide an understandable motivation for them. Cowards are motivated by fear. Greedy characters by avarice, and prideful characters by the chance to appear powerful. If players understand the archetype from the performance, then they'll apprehend the motivation. The better they understand the character, the stronger a relationship they can have with them. But this isn't to say that characters should be defined entirely by their archetypes. Turning back to Winnie the Pooh, we can see that the characters are at their most intriguing when they set those defining traits aside. When Piglet overcomes his fear, or Eeyore offers a kind word, we fix on those moments and see a kind of inner strength shining through. Think about a cowardly character in your game. Now imagine if the players saw them commit one act of selfless bravery. How does it change how they see the character?
The challenge of this is that GMs don't direct the story. The NPCs might be archetypal, but the PCs may not be, and especially when addressing the broad strokes in stories, it can be hard to maintain the right themes without railroading. I think the key is to have those stories happen around the PCs, and encourage them to get involved. After all, the great thing about being a PC is that you can affect the stories that are happening in the setting, and so much the better if they're stories you understand, because it helps you get a handle on the consequences of your actions. Imagine having the PCs stumble across two children leaving a trail of breadcrumbs in the woods. Or coming across a village that's being terrorized by a ratcatching flautist. Imagine the PCs in your game having parts in Kung Fu Panda. Maybe sme of them want to mentor Po, and others face Tai Lung themselves, or even join him, but they all have a part to play. If they know the story, they can cast themselves in a role, and understand where they fit in.
That's really the best reason to use broad strokes. It helps players see their characters as participants in the tale. Whether they sign up with Peter Pan or the pirates, they know how they want to fit in, and they can imagine that because the details aren't subtle. For contrast, imagine your PCs stumbling into a Coen brothers movie like Intolerable Cruelty or Burn After Reading. The character interactions are so complex that it's hard to really fit in anywhere. By focusing on the larger themes at play, you can bait the hook by helping your players see themselves as part of the story.